Lifree Peace of Mind Pants (long hours without a urine pad)
Outer diaper
Underwear type
Product can be deducted as a medical expense | Patented technology
The underwear type helps achieve better incontinence care that takes the characteristics of elderly people with dementia into consideration.
People who can walk by themselves
People who can walk if assisted
People who can stand
| Size | M size | L size |
| --- | --- | --- |
| Waist size | 60-85 cm | 75-105 cm |
| Guideline* for number of absorptions | 7 urinations | 7 urinations |
| Amount included | 14 pcs. | 12 pcs. |
| Suggested retail price | Open price | Open price |
*If there is 150 ml of urine for one urination (Unicharm measurement method)
This is a disposable diaper that can give you peace of mind for a long time even if you're not using a urine pad.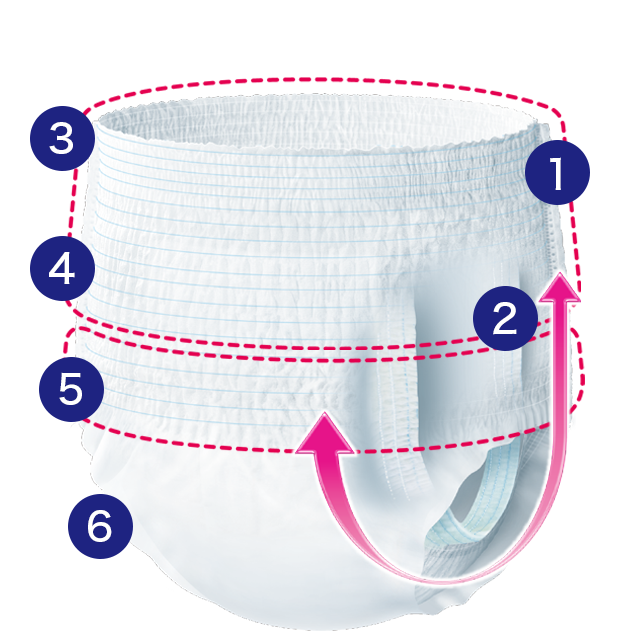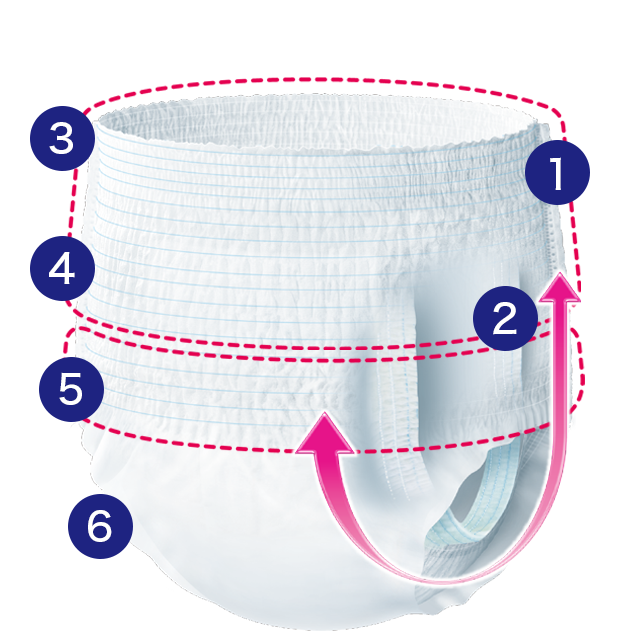 Patented technology: Easy stitch (*1) that is easy to tear by yourself
*1: In the side sealing structure, the strength that is needed to separate the connecting area is weaker in the vertical direction of the product than in the horizontal direction


Fully absorbs 7 urinations and gives you peace of mind for a long time
The super-long absorber absorbs 1000 cc, making it difficult for leaks to occur.
Patented technology*
The gathers fit the back and around the legs just right, and the soft fit around the legs reduces leaks from gaps.
*Disposable underwear type that has a holding area that restricts the height in the groin area of the gathers around the legs on the inside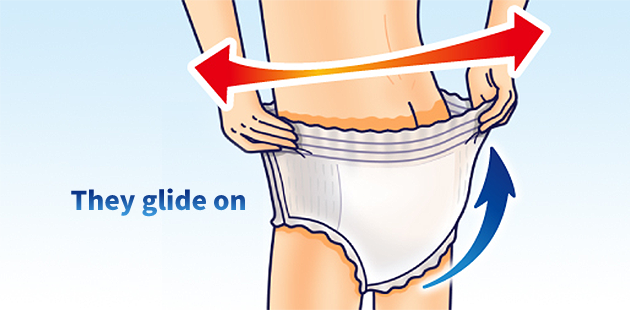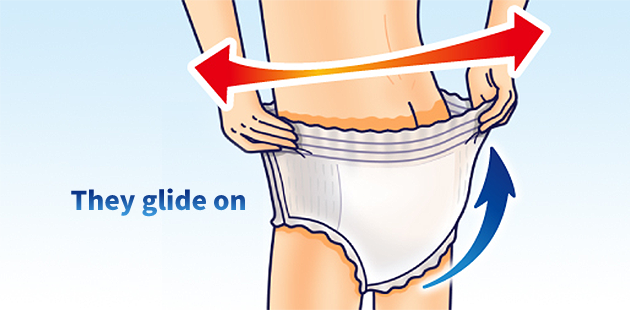 Patented technology: The gliding zone doesn't get caught on the bottom and prevents the waist band from getting rolled up.
The soft stretch zone stretches to twice its length with weak force     

The firm fit zone prevents slipping
Patented technology: Toes don't get caught on the clean shape.
The color band on the stomach side makes it easy to tell which is the front and which is the back when changing it. 
The full ventilation sheet prevents dampness so you stay dry
Contains silver for triple odor eliminating power*
*Has the effect of eliminating ammonia, hydrogen sulfide, and dimethylamine odors.
Structure that blocks back leaks
Space that blocks urine and light stool leaks prevents leaks from the back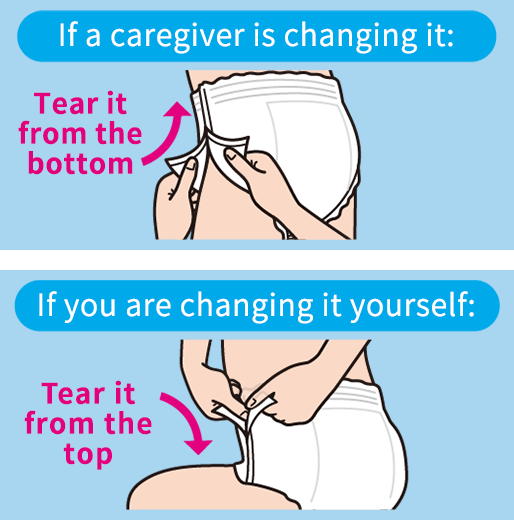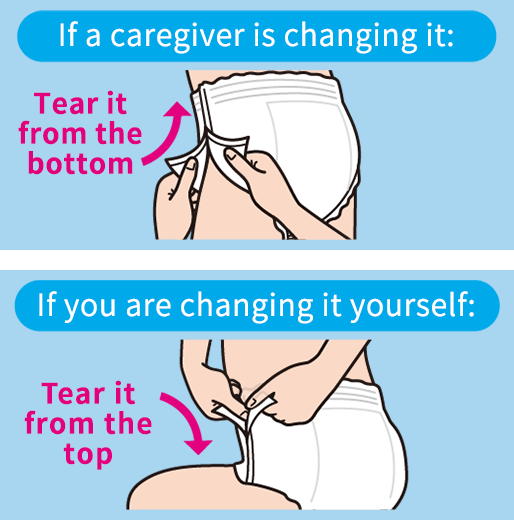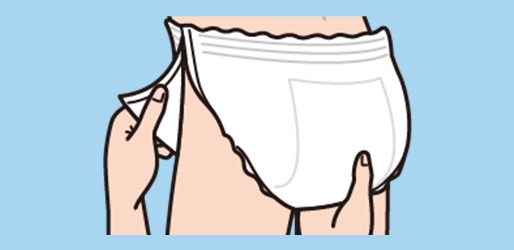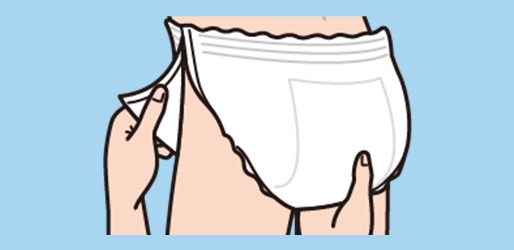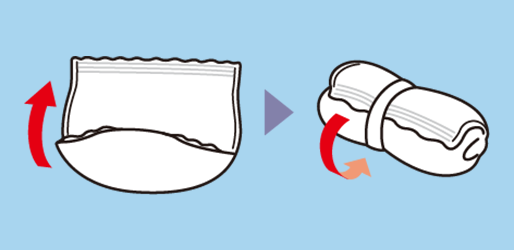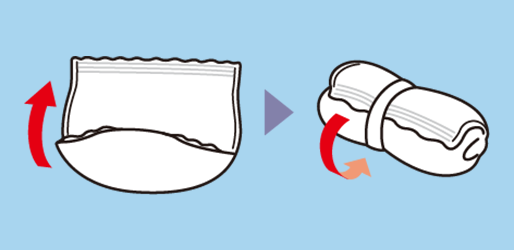 <Caution>
*If you are paralyzed, put your paralyzed leg(s) through the diaper's leg opening(s) first.
*It may be difficult for the elderly to reach the back area with their hands. To caregivers: Make sure to check that the diaper has been properly pulled all the way up the back side and to the waist.
Watch video on how to use
In the video, a professional explains the correct way to use them!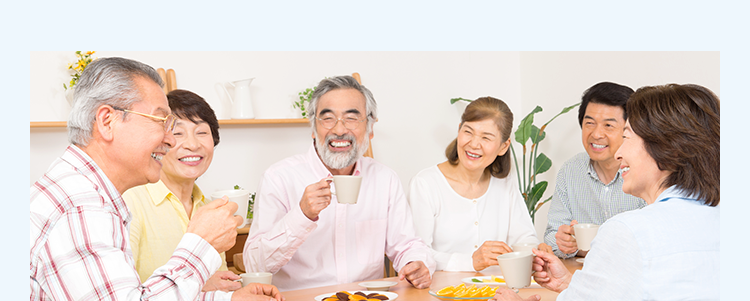 Here are some (online) reviews.
There is 1 (online) review.
Submitted by:Man in his 80s
I don't worry about leaks anymore
My shorts and the comforter were both getting wet almost every day, but the amount it absorbs gives me peace of mind, so I don't have to worry about the bedding getting wet anymore.
Urine leak pads and stool leak pads